Monday, March 7th, 2011...2:41 pm
Self Portraits
Jump to Comments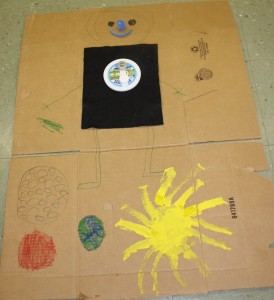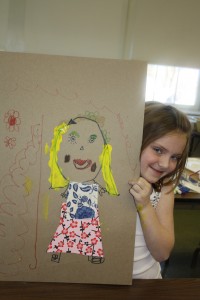 At last week's  Eco-Art class, I asked the children to create self portraits that reflected their favorite activity. The only rule is they had to add something three dimensional.  I gave them cardboard; so they could be able to  poke holes and add other materials.
I love that they took differently approaches! As shown above, one boy, age 6, imagined himself on the moon. Don't  you love the pipe -cleaner nose!
And one girl, age 8, imagined herself at park. She's an admitted fashionista and had fun creating a great skirt and top combo.
Once again, they did a great job upcycling  scraps that what would have otherwise gone to some landfill!