Tuesday, February 8th, 2011...6:36 am
Charlie and Lola
Jump to Comments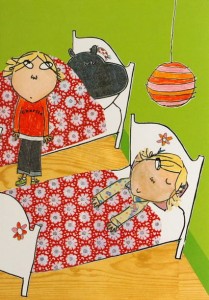 The favorite show among my kids is Max and Ruby; but mine is Charlie and Lola!  Charlie and Lola doesn't captivate my children the way Max and Ruby does but I adore the graphics! And I could easily design a twin bedroom based on the quirky drawings.
Here's the plan:
Paint the room chartreuse- Remember these great green rooms.
Purchase two twin scalloped beds–add a bit of applique.
Throw on beautiful duvets made of flowery fabric.
Hang fun paper lanterns.
My girls are almost ready for beds, (how did that happen so fast!) so  stayed tuned for some more twin bedroom schemes!