Thursday, February 17th, 2011...7:22 am
A sweet Valentine's Day!
Jump to Comments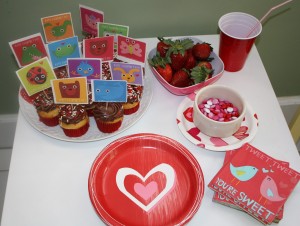 Valentine's Day is made for Pre-schoolers! My tainted view of this hallmark holiday was officially restored by my sweet  5 year old boy! It was 100% completely his idea to have a party; have everyone come in their fanciest clothes, enjoy treats and dance to Lady Gaga. How could I not oblige?  It was sweet, sugar packed party and I think the kids had a great time.
I made the cupcake toppers by downloading these cute printables at Living Locarto. The paper plate and napkins were from Target.  The set-up was in the kitchen to try avoid 2 year olds hands getting into everything!
I hope you had a sweet Valentine's too. xoxo