Wednesday, January 26th, 2011...6:08 am
Splat Mats
Jump to Comments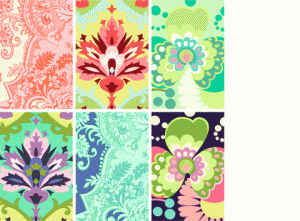 With all this creating I have been doing  I have been thinking about the perfect splat mat for our playroom. It seems nothing online is quite big enough to capture a real mess.
That's why I think it's time to make my own. I love these new laminated fabrics from Amy Butler. The bold, fun patterns will add a little cheer to any space.  If you live in Montclair, you can see the fabrics at  Rock, Paper, Scissors.
This should protect my floor from even my most devilish of creators.