Saturday, January 29th, 2011...6:48 am
I mastered poultry!
Jump to Comments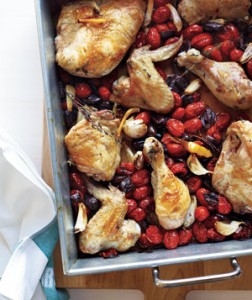 Well one good thing has come about with all this snow; I have mastered poultry! Between the snow and just the basic fact that I am held hostage during nap time; I have been doing a lot of cooking. Up until a year ago I was a  good baker but not really comfortable with meat and chicken. But now I have mastered poultry!
I am sharing my husband's  favorite  because it's not only delicious; it makes a beautiful presentation. And to me presentation is just as important! I got it from Real Simple; and it's  truly really simple! 
Fyi, I only try poultry dishes that can be done in the oven! Nothing stove top; nothing that makes a huge mess, and nothing that requires exact timing or monitoring. Afterall, my three year  children can get into enough of a mess. 

So here's the recipe for  my perfect, one pot,  colorful dish:
Directions
Heat oven to 425° F. Using a vegetable peeler, remove strips of zest from the lemon. (Reserve the lemon.)
In a large roasting pan, toss the tomatoes, garlic, olives, thyme, and lemon zest with 1 tablespoon of the oil.
Nestle the chicken, skin-side up, among the vegetables and drizzle with the remaining tablespoon of oil. Season the chicken and vegetables with ¾ teaspoon salt and ½ teaspoon pepper. Roast until the chicken is cooked through, 35 to 40 minutes.
Remove the chicken from the hot roasting pan. Squeeze the juice from the lemon into the roasting pan and add the wine. Gently stir, scraping up any bits stuck to the pan. Serve the chicken and vegetables with the pan juices and bread (if using).
I would love to say that I put my own spin on it, or made an addition to improve it. But to my family and friends wh0 tasted it –Real Simple got it right!  And the best part, the left over olives and tomatoes are a perfect sauce for pasta the next night!Do you have any one pot chicken recipes you would like to share?