Wednesday, January 19th, 2011...1:32 pm
Freedom of Expression!
Jump to Comments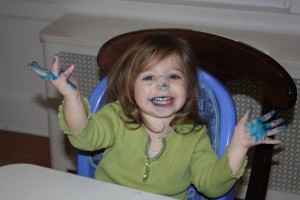 Maybe you think my blog is about ALWAYS being stylish, together and ultra ogranized. But those who know me well, know I certainly let my kids and their friends create a mess!  There is no fear of Play-Doh, paint or markers in this house. Yes, I do keep my eyes on the situation and try not to let it get too out of control. 
But today was different–I let my guard down! I turned my head for 2 minutes and I found out what a 2 year old will do when left alone!
No real harm done; she was strapped in her booster and I cleaned her up pretty quickly (horray for washable markers!) . Maybe a little independence is ok? Afterall, she was really proud!